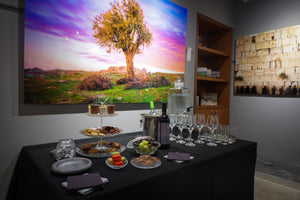 wine, art, and the holy land
take a breath and
be inspired
An experience at the Y.A. Fine Art gallery is sure to be one that you won't forget. Group trips can often have packed itineraries with wonderful non-stop days exploring the richness of Israel. Take a step back to sip some wine and simply appreciate the breathtaking variety of landscapes throughout the Land as captured by talented, award-winning artist Yehoshua Aryeh. Listen and be inspired as Yehoshua Aryeh himself shares about his journey moving to Israel and incredible insight into his stunning artwork collection.
personal touch
catered to your group
We are here to work with your group to schedule what will best fit into your itinerary. Morning brunch, after lunch wine and desserts, cocktail hour before dinner, or (most popular!) wine and desserts to wind down the day - we can do it all. The Y.A. Fine Art Gallery Experience is best suited for groups of between 10 and 30 guests.
Our group absolutely loved it, and they loved hearing from a young couple in love with God and pursuing holiness and righteousness.
We had such an intense couple of days, and this was the perfect way to wind down and really appreciate the landscapes of Israel.
Everyone loved it. Thank you so much and looking forward to next time!
ready to book an incredible experience?
Contact us below for more information and to schedule your ideal group event.
Customized fit to your group's itinerary
A high class experience to remember
Yehoshua Aryeh and his wife Jordyn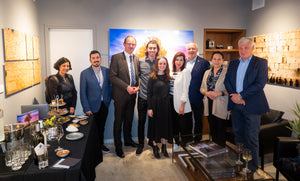 ELNET - EU Parliament Delegation